Be sure to go into your device settings (Main Teams Screen '.' - Devices Settings - un/pw) and go to the 'Meetings tab' and set Zoom (preview) to ON. Alternatively, this can done centrally for all TMR devices from Teams admin (Admin.Teams.Microsoft.com - un/pw - Devices - Teams Rooms). Still, though, his passion was peculiar: 'Teams is the dumbed-down version of Zoom. Teams is what Big 5 is to Dick's Sporting Goods.' Emanuel is something of a sports enthusiast. Zoom (There have been a number of comparison chart but what I found was often missing was recording quality info. After recently reviewing a recorded (social) meeting from Teams in Streams, my curiosity was piqued.
Recently with COVID-19 and the "Shelter-In-Place" restrictions in full swing I've found myself using Virtual Meeting software more and more. Here at SAP, we have 3x choices (which may differ for you own company):
Skype (https://www.skype.com/en/business/)
Teams (https://www.microsoft.com/en/microsoft-365/microsoft-teams/group-chat-software)
Zoom (https://zoom.us/)
There have been a number of comparison chart but what I found was often missing was recording quality info. After recently reviewing a recorded (social) meeting from Teams in Streams, my curiosity was piqued. So I ran an experience comparing 3x different mechanism to record on-line content:
A booked "on-line meeting" on Teams with Cloud recording (automatically to Streams)
A booked "on-line meeting" on Zoom with local recording (personal free account)
Pre-recorded direct to DSLR recording (older Nikon D7100)
To make it easier to compare the quality of the recording, I recorded myself singing and playing part of a song on my guitar. (The performances admittedly aren't stellar or 100% consistent among all 3x, but it doesn't really factor in the comparison as you will see later.)
To ensure the highest input audio quality as possible, I used the following professional grade recording gear:
Behringer UMC404HD (Audiophile 4×4, 24-Bit/192 kHz USB Audio/MIDI Interface with Midas Mic Preamplifiers)
Blue en∙core 300 (Premium Vocal Condenser Microphone, 40Hz-20KHz response)
(To put the "hardware" in perspective, the audio hardware I am using is professional grade, recording at 24-bit/192KHz, which is ~250x the resolution of a CD at 16-bit/44.1KHz).
Immediately, when reviewing the samples the range is quality was evident. You can view the links below via Streams – only available to SAP internally. (For best results, play over high-quality speaker or headphones. Lower quality headsets may impact your ability to discern the differences.)
Teams (direct to Streams) – Teams Recording Sample (https://youtu.be/KfGMdy_M7-c)
The quality here is very poor. Almost shockingly so (and that is what started me on this quest/experiment). There must be some intelligent filtering as the guitar intro part is not picked up at all.
Zoom (local) – Zoom Recording Sample (https://youtu.be/fWyez5vplZ4)
The quality here is much better. While the video isn't perfect, the audio is actually quite clear. Volume is also much higher, maybe playback much more enjoyable.
DSLR – DSLR Recording Sample (https://youtu.be/rlW86YbIlDM)
As you can "see" and "hear" the quality in DSLR recording is by far the best. Vocals and guitar come out well reproduced and any motion is captured well. There isn't any aliasing or artifacts.
Splitting off the audio from the video and then viewing in them size by side in editing software, we can clearly see the drastic different in the wave-form. Note that in Teams and Zoom the values of the Audio-Interface were identical at the time of recording. The audio by Team is almost undetectable.
So why is this? Looking at the technical details after 1st hand visual and audio evaluation, the data seems to match well with my empirical reactions. It's crucial to note that no matter how "good" the source was, with a low-quality recording, this is wasted effort.
For audio:
Teams (direct to Streams)
Bitrate: 49kbps
Sample Rate: 16 kHz
Zoom (local)
Bitrate: 53kbps
Sample Rate: 32 kHz
DSLR
Bitrate: 1540kbps
Sample Rate: 48 kHz
Note: Both ZOOM and Teams folded down to MONO, which is actually better as stereo in this case was unnecessary and provided no extra value.
For video:
Teams (direct to Streams)
Bitrate: 1049kbps
Frame Rate: 8 frames/s
Zoom (local)
Bitrate: 1633kbps
Frame Rate: 25 frames/s
DSLR
Bitrate: 22413kbps
Frame Rate: 30 frames/s
Note: To capture "realistic" motion, you need 24 frames/s or higher. For reference YouTube recommends 8Mbps (8000kbps) for HD uploads.
I haven't tried…
Skype local recording – My development team has prioritized the use of Skype (to avoid missing chats and calls on the "other" platform) so I rarely log into it.
Final thoughts…
Given the choice, my (current) first preference for any media that I thought would be preserved and shared for a long time, locally recording with DSLR or video camera still seems like the best bet. Often these are "dedicated purpose" devices that are optimized for recording quality. However, this doesn't offer live-audience interaction.
Zoom Teams Webex
Therefore for live-audience event that would be shared later, I would go with Zoom over Teams due to the ability to locally record at a much higher quality. I would then upload the media to Streams to re-share with colleagues.
p.s. After some requests, I also have a blog post on best settings for Music Performances using – https://blogs.sap.com/2020/06/27/musical-performances-with-zoom-meetings
How to Connect Zoom and Microsoft Teams in 2021
Looking for a way to connect Zoom and Microsoft Teams?
In one corner, Microsoft Teams offers a sensational addition to the Microsoft 365 stack. You get messaging, file sharing, and video conferencing in a neat productivity stack.
In the other corner, there's Zoom, delivering HD web conferencing – and now with messaging and channel-based working thrown in too.
So, how do you choose between these two amazing tools?
Easy, you don't.
You can connect them instead.
In this post, we walk through:
Is Zoom better than Microsoft Teams?
How do I link my Zoom to Microsoft Teams?
Can Zoom and Microsoft Teams work together?
If you don't want to read through this post, and just want to get on the waitlist for Teams <> Zoom interop, join our waitlist here.
Is Zoom better than Microsoft Teams?
Both Microsoft Teams and Zoom have their positives and negatives to consider. There's no easy answer to whether one option is better than the other. It all depends on what your company is looking for.
Zoom offers excellent accessibility today. Users can choose how to format their video grids and galleries. There's support for noise-canceling too. This reduces the distractions in a meeting room.
Microsoft Teams recently caught up with Zoom in the number of video streams you can see on a grid at once. Microsoft also has the Together mode feature.
This feature connects people in a virtual space for a unique collaboration experience. Microsoft also offers APIs to support call recording and contact center platforms.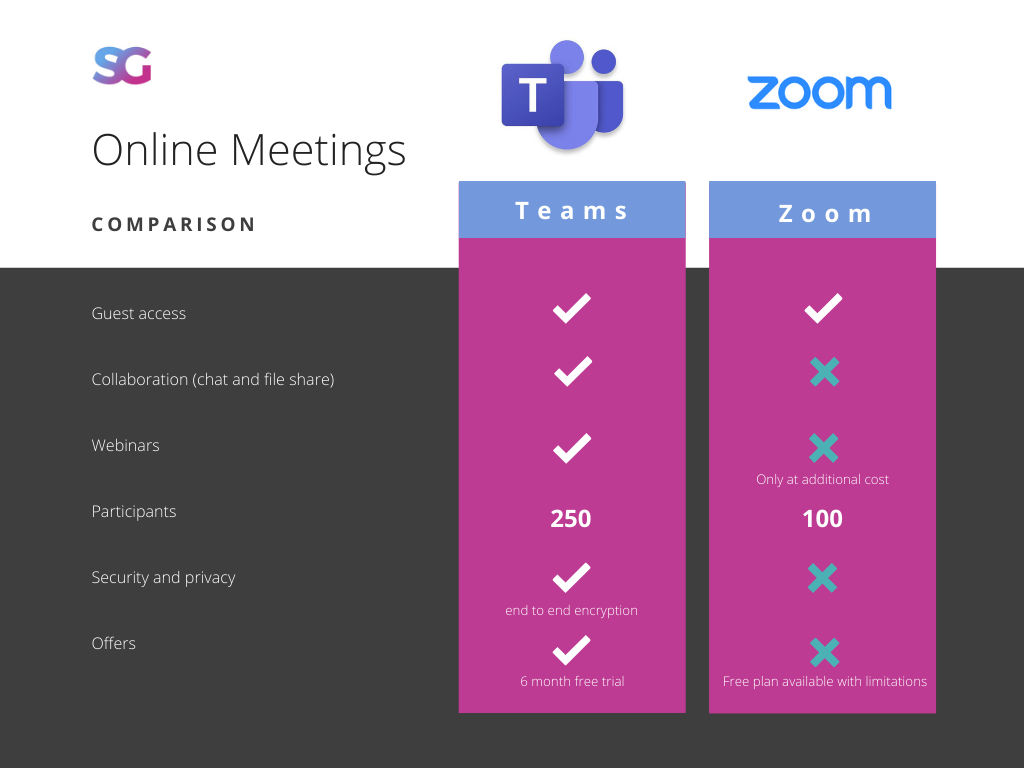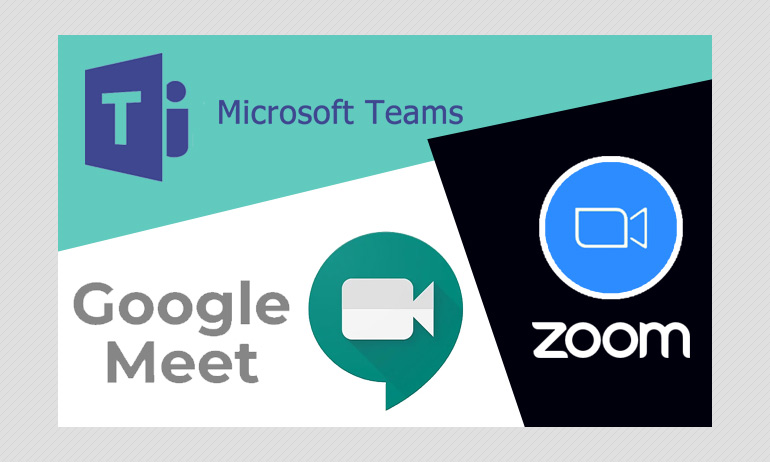 These are just a few features you could compare side by side.
In fact, let's do just that.
Microsoft Teams vs Zoom comparison table

How to connect Microsoft Teams and Zoom
Zoom has its own in-built connectors for Slack, Cisco, and even Microsoft Teams. You can find the current Zoom integration for Microsoft Teams in the app store.
This solution allows users to start or join scheduled meetings through bot commands or a tab. Tabs are productivity tools in the Microsoft Teams UI.
You'll need:
A Microsoft Teams account
A Zoom account
Zoom admin controls
If you have all those things, you're almost there.
Log in to your Microsoft Teams account and click Install on the Zoom integration. Then, choose Authorize.
How do I link my Zoom to Microsoft Teams?
Once you've installed the Zoom app, you can add your meetings bot to your Microsoft Team. Click the down arrow next to Add and click Add to a Team.
From there, search for and select the channel or team you want to use the integration in, and click Set up a bot. This will install the Zoom Bot and Zoom Tab for Microsoft Teams. Follow the user wizard to get everything configured.
What if you want to install the integration for all users at once?
To do this, you'll need to use the MS Graph API. You'll need a little developer knowledge to get your head around this.
Using the Zoom and Microsoft Teams Integration
When you first launch Microsoft Teams after installing Teams, log into both accounts.
Don't worry; you only have to do that once.
Once you're in Microsoft Teams, click the Zoom icon and click My Meetings. Click on Sign in to access Zoom and start using the integration.
With the Zoom Meetings tab on Microsoft Teams, you can schedule meetings with anyone else in your team that also has Zoom.
To start a meeting, click on the Zoom Meetings icon, and click My Meetings, then Start a Meeting.
A pop-up tab will appear that allows you to search for the people you want to include in your meeting. Once selected, hit the Start button.
Your participants will get a notification telling them that you've asked to start a Zoom Meeting.
You can also click on Schedule a Meeting in the Zoom tab to arrange a conversation for later. This will bring up a window that asks you to enter the meeting topic, anyone you want to add to the meeting, and the start/end time. You can also add a password to the meeting if you want to make it more secure.
Once you schedule your meeting, it will appear on your Microsoft Exchange Calendar.
The Zoom meetings bot
When you add the Zoom integration to Microsoft Teams, you get two things, the Zoom meeting tab and the Zoom bot. The tab is great for launching and scheduling meetings. It also gives you the option to instantly share your screen.
The Zoom meetings bot also offers easy access to Zoom functionality with @mentioning.
Once you've installed Zoom bot, type @Zoom into the Teams messaging field to get a list of all available commands. If you want to:
Start a meeting with a specific topic: Type @Zoom, select Zoom Meetings, and type start. Remember to use a name for your session.
Join a meeting: Type @Zoom and select the Zoom Meetings bot, then type Join. You'll need the Meeting ID of the conference you want to join.
When your meeting ends, your bot will post a summary and recording link in your Microsoft Teams chat.
Can Zoom and Microsoft Teams work together?
Pairing Microsoft Teams and Zoom is possible. You can use the Zoom integration in the Microsoft Teams app store, or the Zoom Meetings bot.
You can launch meetings with the Microsoft Teams tab or bot.
Users can also join Microsoft Teams meetings from Zoom Rooms.
To join a Microsoft Teams meeting from a Zoom room, sign into the Zoom web portal. Click Room Management, then Zoom Rooms. Choose Account Settings and click the Meeting tab.
Toggle the Support 3rd party conferencing dial-in option on.
On the Meeting Settings tab make sure Support 3rd party conferencing dial-in is on.
Once the setting is enabled for your Zoom Room, send the room an invite. The invite must include the SIP address and meeting ID of the Microsoft Teams meeting.
Users can schedule conversations on Zoom through Microsoft Teams too.
Connecting Zoom Rooms to Microsoft Teams
If you use Zoom in your meeting rooms but rolled out Microsoft Teams for remote workers, you need a method of connecting the two together.
You can connect your Zoom in-room devices to your Teams virtual meeting rooms using OneMeeting.
OneMeeting uses Pexip's video interoperability service to connect your meeting room with Microsoft Teams at home.
This means everyone joins the same meeting from either Zoom or Microsoft Teams. You get one interface and one management suite.
Join a Zoom meeting from a Microsoft Teams Room
You can't join a Zoom meeting from a Microsoft Teams room yet. However, this feature is coming soon.
Brennon Kwok of UC Primer has preview access to join a Zoom meeting from a Microsoft Teams Room and runs through the current workflow here.
If you want to combine Microsoft Teams and Zoom Chat, there's an option for this too. You can link both chat systems through Mio – a better way to connect Zoom and Microsoft Teams.
Teams and Zoom interoperability
Combine all the benefits of Microsoft Teams and Zoom Chat into one environment with Mio.
Mio syncs the conversations your employees have on Microsoft Teams and Zoom. Once installed behind the scenes, our tech translates your Teams messages to Zoom Chat – and vice versa.
It grabs messages sent from Microsoft Team to Zoom users, and delivers them on the other app.
Zoom Teams Integration
By embracing message interoperability between your two favorite platforms, your users can:
Stop switching apps to communicate: Everyone can use the messaging app they prefer. No-one has to switch to new software or risk being out of the loop.
Reduce information silos: There's less risk of files and conversations going missing. Mio connects your conversations and people. Everyone stays on the same page.
Browse and join any channel: Synchronize channels so you and your colleagues are always on the same page.
Mio supports more than just chat. Your employees and external contacts can share emojis, files, and links too.
Here's how you can have both
Mio is working on Teams and Zoom interoperability.
This means you'll be able to stay in Microsoft Teams and send messages to users in Zoom Chat.
And the same is true vice versa! Your users who prefer Zoom Chat can stay in Zoom and message users on Microsoft Teams.
You can join the waitlist below to be the first to know when our interoperability tool goes live.
For early access, join the waitlist here.
Zoom Teams Hangouts Meetings
You must be logged in to post a comment.